More new music from Jake Clayton has been released and is available on all digital sites including YouTube.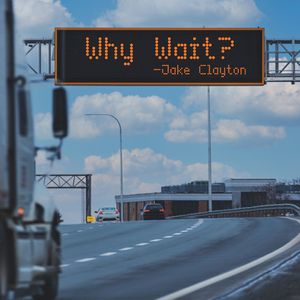 "Why Wait?" was written by Jake Clayton and bandmate Rob Daniels. During the lockdown phase of the pandemic when all touring was pulled and recording studios were shut down, Jake and Rob immediately went right to work writing and recording new music. This is one of the songs that came from those writing sessions.

"The idea came after my mom's passing. I was thinking back on our recent conversations where she had talked a lot about things she wanted to do with the rest of her life, and then getting smacked with the reality of not getting to do them. Life is fragile and short, and can change at any moment. When you have the opportunity to get out and enjoy this world, don't pass it up! Why Wait? Get up and go before it's too late!" - Jake Clayton
Check out the lyric video for "Why Wait?"

Click this link to stream the song on your favorite digital site
STREAM "Why Wait?"

Click the link to download the song
DOWNLOAD "Why Wait?"

"Why Wait?" was recorded and produced by Rob Daniels at JD's Joint, and was mixed by Nashville's Billy Decker. Drums were performed by Chris Broome. Additional electric guitars were performed by Rob Daniels. Jake Clayton performed everything else.