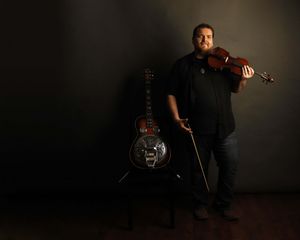 Jake Clayton Bio
At a very early age, Jake Clayton found a passion for playing Country music. As an early teenager Jake Clayton was already a much talked about 'kid' who could not only play the fiddle, but also the dobro, piano, banjo, mandolin, and any other Instrument he picked up. Within a couple of years, Jake was headlining his own sold-out local theatre shows and performing at all the local Opry houses in rural Missouri. Before he was old enough, he began playing in regional bars with local cover bands opening shows for touring Country Music artists. At one of those shows, a manager on the road with a Nashville artist recognized Jake's talent and asked him to get on stage and perform. That encounter eventually placed Jake Clayton in the heart of Nashville, TN playing for some of the top names in the Country Music business. After 14 years Jake Clayton has now traveled all around the globe as a utility musician on tours headlined by Country Music stars such as Garth Brooks, Brad Paisley, Jason Aldean, Dierks Bentley, Alan Jackson, Bob Seger, Miranda Lambert, and many more. Jake has performed alongside icons like Brad Paisley & Keith Urban, been on legendary stages like The Grand Ole Opry and Madison Square Garden, and has been seen on Jimmy Fallon, Ellen, The CMT Awards and other popular TV shows. 
Off the stage, Jake has also been building an impressive resumé as a musician in the studio world. On top of hundreds of recordings for indie artists all around the Country, Jake has earned recording credits on chart topping albums and #1 songs. In 2021, Jake Clayton not only played on, but also co-wrote "Dirt Around the Tree", a single by Candi Carpenter that was produced by and features 18x Grammy nominated star Brandi Carlile. 
During this time Jake Clayton has also fueled his passion for writing, recording, and touring as an artist. In the past decade Jake has released 3 albums & 3 eps, had a single called "What Not to Do" that charted on Music Row's Country Breakout Charts, and had a video in rotation on multiple television networks. With his own band, Jake Clayton has opened shows for hitmakers Cole Swindell, Jon Pardi, Granger Smith, Kane Brown, Colt Ford, David Allan Coe, Tanya Tucker, and more. 
There's still one major factor that sets Jake Clayton apart from most musicians and artists alike. Jake has an incredibly rare ability to play over 20 Instruments… very well. In short, Jake comes to the table with enough skills alone to equal a band of top musicians. On his own recordings, he writes or co-writes all of the songs, and then performs nearly every Instrument! Bass, guitars, dobro, fiddle, cello, mandolin, banjo, pedal steel, percussion, the list goes on. He then glues it all together with a powerful voice that carries the lead vocals and the majority of vocal harmonies as well. Combine all these elements and you have one of the most unique Artists in the business.