All throughout life we've heard these quotes: "they say be careful what you wish for", "they say if it sounds too good to be true it probably is", "they say what doesn't kill you makes you stronger", and many, many more. People base their life decisions on these words, but does anyone really know... "Who Are They Anyway?"
The new Jake Clayton single is now available on all digital sites!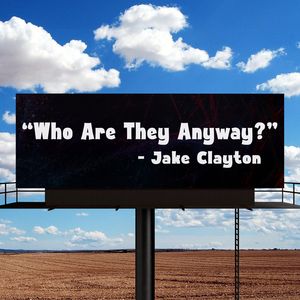 "Who Are They Anyway?" is the first in line from Jake's new material he's been writing and recording over the past couple of years. This track, written by Jake, along with Rob Daniels & Alan Gibson, features Kent Slucher (from Luke Bryan's band) on drums, Amanda McCoy on harmony vocals, and Jake Clayton on all other Instruments and vocals. It was produced and recorded by Rob Daniels at JD's Joint in Tennessee and mixed by Billy Decker who has credits on 16 #1 songs including hits by Chris Young, Dustin Lynch, Rodney Atkins, Parmalee and a long list of others.

Watch the lyric video for "Who Are They Anyway?"

Click this link to stream the song:
STREAM "Who Are They Anyway?"
Click the store link to download:
DOWNLOAD "Who Are They Anyway?"